Euphoria Overdrive
The Euphoria has been world renowned for many things over the years, but primarily it has become famous for its versatility and that old boutique catch phrase "transparency".
When Brian created the circuit that would eventually become the Euphoria, he was working on creating a pedal that would go from clean tones to extremely fat tones while adding a bit of warmth, a natural overdrive… the goal was to make a pedal that does NOT sound like a pedal – it needed to be dynamic, have a great choice of tones (from  gritty to smooth) yet be able to respond to the volume knob like a tube amp.
The hidden secret of the Euphoria is the pre-gain bass control. This gives the tone a fatness that a regular EQ stack cannot give you, it gives you a warmth and sustain to the tone that is extremely similar to that famous, elusive amp that attracts the the kind of price tag in the used market that could literally buy you a home.
If you love the sound of your clean tone, and just wish you could have more hair on the note… a little bit of grit without any change in tonality, the Euphoria will do that with ease. The 3 completely separate gain stages give you 3 distinct styles of overdrive – So, from that famous smooth amp style drive, to an open and free tone that just pushes your natural tone all the way up to a more aggressive crunch style, the Euphoria will be the first, and quite possibly last, choice you make for an overdrive pedal.
B-Stock Pedals may include minor blemishes, have been opened, have damaged packaging, or used lightly in some manner - but the pedal will be considered as "like new condition" and carries a full factory warranty. Unit operates 100% as brand new pedal.
A Modern Classic
The Euphoria has been widely regarded as one of the best overdrives ever released – versatility, control, organic sounding overdrive and being able to go from gently clipping to full on aggressive crunch has made it the kind of pedal you need on your board no matter what genre you play!
Complete Control
3 modes of 'clipping', pre-gain bass, tone, volume and gain… 5 simple controls and IS the pedal that can cover almost all grounds. The magic happens when you start stacking it – it can take anything or go into anything…
3 modes and the truth
Smooth Mode – A warm 'D 'style overdrive, fat and rich, powerful with a strong sustain, your tone deserves this perfectly rounded and smooth overdrive… Open Mode – It just adds dirt and grit to your tone, minimal coloration, just beautifully clear overdrive… Crunch Mode – Careful with the bass, you can almost get fuzzy here, or just give the impression you've added 100w and 4 more speakers to your amp!
Built for Forever
Brian Wampler's attention to detail and commitment to bringing you the best-sounding & most usable Effects Boxes on the market is nothing new. Those qualities are on full display within the Euphoria. We're all tone-freaks, and we're always trying new things, but we hope this pedal finds it's forever home on your pedalboard, so we built it to last that long.
Technical Details
Built in the U.S.A.
High grade components picked for their superior sound and response
Relay true bypass with soft switch
Top mounted input and output jacks
Battery connection and 9v power jack
Power draw: between 8mA (9v) and 15mA (18v) (LED will flash 3 times when power from battery is getting low)
4 knobs – Volume / Gain / Bass / Treble
3 independent switchable gain stages
2.5″ x 4.5″ x 1.5″ (63.5mm x 114.3mm x 38.1mm) – height excludes knobs and switches
Includes Wampler's limited 5-year warranty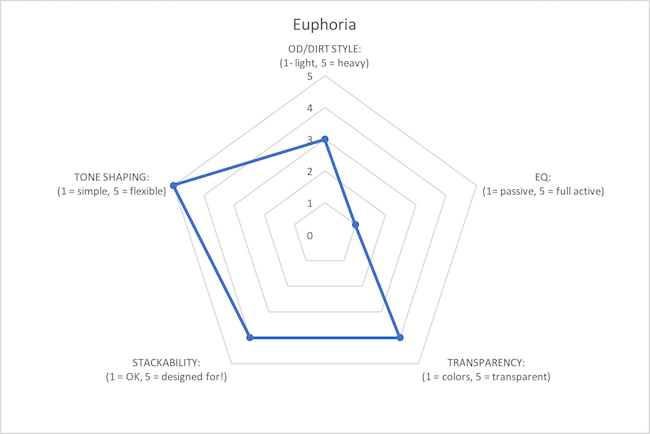 Customer Support
CUSTOMER SATISFACTION GUARANTEE. 
Wampler offers a 30 day no questions asked return policy on any 
pedal
 purchased through the wamplerpedals.com website. In order to satisfy the requirements for the return the pedal must have the battery inside, complete with all original packaging and all in as new condition. Please contact us via 
[email protected]
 to arrange (please include your order number) the return. Please note, any pedal bought through a dealer is not applicable – please refer to their specific returns policy.
WAMPLER Pedals Limited Warranty. WAMPLER offers a five (5) year warranty to the original purchaser that this WAMPLER product will be free from defects in material and workmanship. A dated sales receipt will establish coverage under this warranty. This warranty does not cover service or parts to repair damage caused by accident, neglect, normal cosmetic wear, disaster, misuse, abuse, negligence, inadequate packing or shipping procedures and service, repair or modifications to the product, which have not been authorized by WAMPLER. If this product is defective in materials or workmanship as warranted above, your sole remedy shall be repair replacement as provided below.
RETURN PROCEDURES. In the unlikely event that a defect should occur, follow the procedure outlined below. Defective products must be shipped, together with a dated sales receipt, freight pre-paid and insured directly to WAMPLER SERVICE DEPT – 5300 Harbor Street, Commerce, CA 90040, USA. A Return Authorization Number must be obtained from our Customer Service Department prior to shipping the product. Products must be shipped in their original packaging or its equivalent; in any case, the risk of loss or damage in transit is to be borne by the purchaser. The Returns Authorization Number must appear in large print directly below the shipping address. Always include a brief description of the defect, along with your correct return address and telephone number.
When emailing to inquire about a returned product, always refer to the Return Authorization Number. If WAMPLER determines that the unit was defective in materials or workmanship at any time during the warranty period, WAMPLER has the option or repairing or replacing the product at no additional charge, except as set forth below. All replaced parts become a property of WAMPLER. Products replaced or repaired under this warranty will be returned via ground shipping within the United States freight prepaid. WAMPLER is not responsible for costs associated with expedited shipping, either to WAMPLER or the return of the product to the customer.
INCIDENTAL OR CONSEQUENTIAL DAMAGE. In no event is WAMPLER liable for any incident or consequential damages arising out of the use or inability of the possibility of such damages, or any other claim by any other party. Some states do not allow the seclusion or limitation of consequential damages, so the above limitation and exclusion may not apply to you. This warranty gives you specific legal rights and you may also have other rights which may vary from state to state.
FOR YOUR PROTECTION. Please complete the online warranty registration within (10) ten days of the date of purchase so that we may contact you directly in the event of a safety notification issued in accordance with the 1972 Consumer Product Safety Act.
This equipment has been tested and found to comply with the limits for a Class B digital device, pursuant to part 15 of the FCC Rules. These limits are designed to provide reasonable protection against harmful interference in a residential installation.
This equipment generates, uses and can radiate radio frequency energy and, if not installed and used in accordance with the instructions, may cause harmful interference to radio communications. However, there is no guarantees that interference will not occur in a particular installation. If this equipment does cause harmful interference to radio or television reception, which can be determined by turning the equipment off and on, the user is encouraged to try to correct the interference by one or more of the following measures.
Reorient or relocate the receiving antenna.
Increase the separation between the equipment and the receiver.
Connect the equipment into an outlet on a circuit different from that to which the receiver is connected.
Consult the dealer or an experience radio/TV technician for help.
Changes or modifications not expressly approved by the party responsible for compliance could void the user's warranty to operate the equipment.
CUSTOMER SUPPORT. Our dedicated staff is ready to help you with any warranty or product questions – please email us at [email protected] or call us on (765) 352-8626.
Please remember to register your pedal as soon as possible after purchase at the following web page to ensure quicker service if you should ever need to make a warranty claim: warranty registration